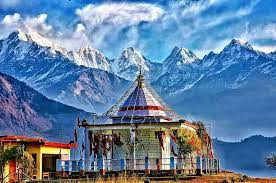 BEDNI BUGYAL is a hill station situated at CHAMOLI district of UTTARAKHAND state. BEDNI BUGYAL is covered with lush greenery land.
BEDNI BUGYAL also has a small lake called VAITARANI (BEDNI KUND), it is an artificial lake built with a concrete. There are two shrine here one a small temple of NANDA DEVI & other shrine for LATU. BEDNI KUND is a popular pilgrim site for the Hindus.
It serves as a scared pilgrim place where MA NANDA & SHIVA are worshipped by the devotees. The pilgrim carry the palanquin of MA NANDA from BEDNI KUND to ROOPKUND during the famous NANDA DEVI RAJ JAAT which happens once in twelve years.
As same goes with LATU DEVTA MANDIR which is situated in the CHAMOLI district of VAAN area .LATU DEVTA is also known as religion brother of NANDA DEVI .There is a belief that NAGARAJA resides with mani in this temple & there priest do worship of NAGARAJA with blindfold because the eyesight can go with the rays of mani .When the doors get open of THE LATU DEVTA MANDIR VISHNU SAHASRANAM & BHAGWATI CHANDIKA recital are organized.
ALI BUGYAL & BEDNI BUGYAL are two of the most famous BUGYAL of our country. For tourist & visitors best time to visit in summer, when lush greenery in the meadows & wildflower are growing and also in past– monsoon , when clouds are washed away , the skies are clean that visitors can see best view of mountains ALI BUGYAL is also known as the " HEAVEN TERRACE". ALI BUGYAL & BEDNI BUGYAL are the best places for camping & trekking.
ROOPKUND is high altitude Glacier Lake in the UTTARAKHAND, It lies in the lap of trekking path to ROOPKUND passing near BEDNI BUGYAL It is moderate to difficult level of trek, Quit long trek with view of mountains, valley, clouds, windy spaces, grasslands & abundant snow.
One should be trek ready with all essentials especially dry ration, water & good trekking shoes. ROOPKUND is also known as a 'MYSTERY LAKE' or 'SKELETON LAKE' because hundreds of skeletons found at the edge of this lake. Skeleton are visible when the ice melts.